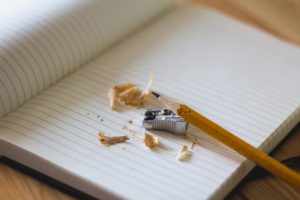 School's out, which means I'm able to be more of a writer. This summer, as I revise my novel, I Feel For You, I'm studying how to be a story genius. The "textbook" I'm using is Story Genius: how to use brain science to go beyond outlining and write a riveting novel. 
According to author Lisa Cron, a story is basically "about how someone grapples with a problem they can't avoid, and how they change in the process." (pg. 30) Story is, therefore, the internal struggle and change–compared to plot, which is the external events. The book not only talks about why our brains crave story, but it also helps provide what the author calls "a blueprint" for your novel. The blueprint talked about in Story Genius "is not a general outline of the things that happen in the plot; it's a fully realized synthesis of the internal and external layers of your story from beginning to end."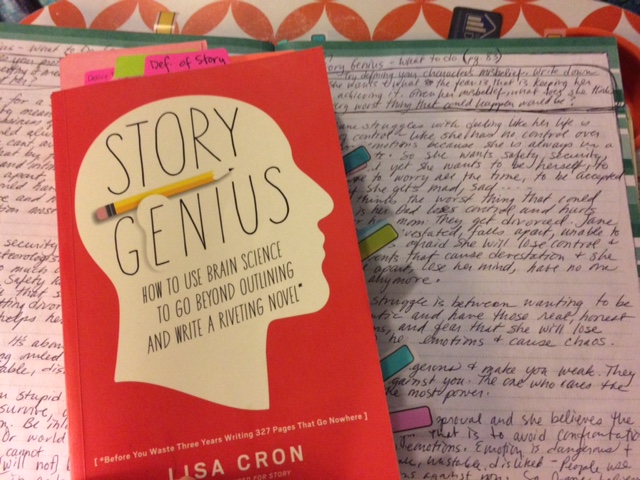 Throughout the book there are sections the author calls What To Do.  I stop and work on those in my IFFY novel notebook — which is just a notebook (see above picture) where I put ideas, thoughts, diagrams, drawings, explanations… whatever has come up in the course of writing I Feel For You. For me, it is easier to allow imperfection when I write on paper. Something about switching to Scrivener (the writing software I use) makes it feel more like it has be to be… well, good. So I do the brainstorming on paper.
Story Genius would be great for those who have an idea, but haven't started writing yet.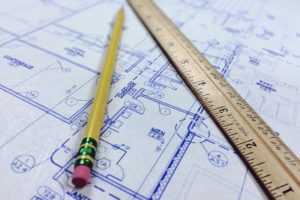 I'm revising, but it is still helpful for that as well. The shitty first draft has been written, but I knew I needed to ratchet up the tension. Unfortunately, I wasn't exactly sure how. Working through Lisa Cron's book allows me to pin-point WHY the lack of tension, the absence of urgency–and it is also helping me know how to build that urgency into my manuscript.
I'm far from finished, but I definitely have a better handle on what my STORY is — and a blueprint for the plot events that need to happen to create that story.